For the last decade and more, the modern, sleek looking German kitchen has been a very popular choice. But what makes a German kitchen special? And why all the fuss? In this Kitchens InStyle article, we're going to explore the details of these kitchens from central Europe and look at the list of reasons for investing in one.
Price, precision and perceived quality
It goes without saying that we Brits have a sense that the Germans are meticulous in their attention to detail. Their national pride in their manufacturing ability is demonstrated through their continued success in exporting their design & engineering products across not only Europe but the world.
The majority of German kitchen cabinet manufacturing has been produced for the mass market. This has inevitably led to the cost of their kitchen units being cheaper. However, this has influenced the general quality. For example, the carcase thickness is often only 15mm thick as opposed to 18mm and the cabinet colour is often white, not colour co-ordinated to the kitchen door colour.
The main differences of a German kitchen
In-frame kitchens, traditional Shaker kitchens and contemporary-style flat panel door kitchens have, for a long time, been popular in the UK. The difference between a German kitchen and the more traditional kitchens is most noticeable by the change in design. A more traditional English or Colonial kitchen would often include chunky corners, heavy worktops, patterned doors, striking handles and a variety of busy looking/dust collecting feature units such as plate racks & glass display units. German kitchens avoid these design features or at the very least keep these elements to an absolute minimum.
Minimalist design ideas are at the heart of German design. In fact, you won't see a handle for looking, and sleek lines, sharp worktops and refined edges will come to the forefront of the look.
Is a German kitchen the same as a Handleless one?
As with many things that become popular, different terminology is used to describe them. Original production of German kitchens dates back to the late 19th century, and many manufacturers have put their stamp on the design. This style is often referred to as 'handleless', so be sure to know that many handleless kitchens are from German descent.
Getting the true Handleless effect
Many kitchens have the Handleless look, and to the uninitiated, it would be easy to mistake these kitchens for other styles. Only some kitchens are truly handleless – the style that is so sought-after.
So, what is meant by 'true handleless'? In the below image, you will see a comparison between two doors that, on the face of it, have the 'handleless' look, but only the 'Gola rail system' on the left is truly a handleless door. The 'J' pull door isn't a truly handleless kitchen as it has the handle shape moulded into the door. A small but nevertheless important difference.
From the heart of Germany
Germany is known for high standards when it comes to design and engineering. Whether it's their wealth of automotive history, their efficient production lines or their kitchens, German exports are truly remarkable when it comes to mass produced quality.
Many traditional kitchens in Britain are made in the traditional way; by hand. Many German and handleless kitchens are made by machine, but this shouldn't be viewed as a negative. In-fact it works to our advantage, because the precision of these machines means that they fit like a glove and have a lasting quality. These kitchens are durable, hardwearing and design-led, and this is what you'll get with a handleless kitchen from Kitchens InStyle.
3 German kitchen styles that get our vote…
#1: Supermatt Grey
If keeping everything looking minimal is your cup of tea, then this German-inspired kitchen in Supermatt grey has plenty of 'wow-factor'. The dark grey gives the design a strong masculine look and the Supermatt door material offers fingerprint resistant technology that looks & feels like paint but is far more tough and durable.
#2: The Curve
This rather sublime Vouge Dakar & White kitchen uses curves to take the German J line style to the next level. The gloss finish contrasts with the matt wooden worktops and the natural stone feature wall gives a finish that's more than pleasing on the eye.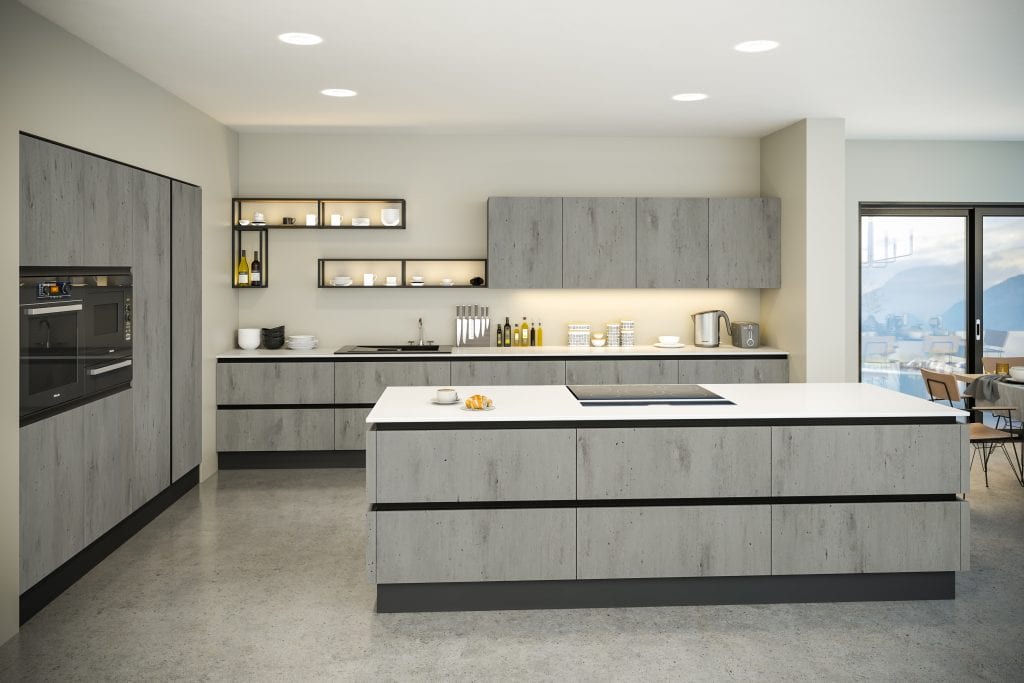 #3: The Industrial Look
The industrial look has really come to the fore in recent years and this incredible kitchen blends the best of European design with a concrete door finish. This Gola Rail kitchen is being highlighted by the satin black rails, plinth & feature wall units, whilst the plain gloss white worktops keep the room feeling light & fresh.
Next steps…
If you'd like to find out more about German and handleless kitchens and how they can transform your home, visit our Cadnam showroom or book a design appointment by clicking here. Alternatively, you can call us on 02380 811 777.