Choosing the right style for your kitchen is vital in creating a home that represents you and your tastes- however the storage potential and overall utility of your space is just as important as the appearance.
Whether you favour a statement design or a contemporary linear look, read on for a variety of ways that you can incorporate innovative kitchen storage ideas, for a functional space that will ease life and cooking.
Kitchen Island
Incorporate an island into your kitchen for a space that truly acts as the heart of your home whilst also providing extensive storage space. Ideal for larger kitchens, an island creates a focal point in your design as well as adding interest and dimension along with huge storage potential.
Go bold with dark cabinets or create a seamless look with white gloss doors, for a unique design that is stylish and practical.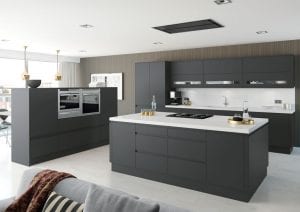 Pantry
While many people disregard pantries in their design for fear of needing a large utility space, they can be incorporated into a variety of cabinet plans to add usable space. Save time on searching through disorganised cupboards with an integrated pantry cupboard that keeps dried goods out of sight.
Pantries perfectly compliment shaker style kitchens, however will bring a homely nature to any kitchen space.
Cabinet door shelving
For larder-style storage on a smaller scale, add spice shelves to the inside of cabinet doors to utilise every inch of your kitchen. A compact way of storing spices and herbs, narrow depth shelves ensure that nothing gets lost and also lend themselves to quick access when cooking.
Wall displays
Showcasing crockery, pans or utensils on wall hangings is an ideal way of creating a lived-in look that remains ordered and functional. Create a scheme with matching copper pots and pans to feature on-trend materials in your kitchen design.
Alongside acting as a statement design feature on your walls, open displays make it easy to find kitchenware when cooking, as well as freeing up precious cabinet space.
Integrated shelves
Add in personal features to every corner of your kitchen with integrated shelving between cupboards or on the ends of your fitted cabinets. Shelves will help to break up the appearance of large fitted cabinets, allowing space for trinkets that will complete the feel of your home.
For a customisable storage solution, display larger items such as jugs or bowls that would otherwise take up valuable space, alongside decorative objects and cookery books.
Freestanding storage units
While many kitchen cabinets are fitted, freestanding units can provide additional storage that can also compliment a streamlined design. Freestanding glass cabinets will add light to a space, as well as giving you additional storage in all corners of your kitchen.
Displaying crockery on top of and inside glass cabinets also leaves more space inside main kitchen cabinets for less attractive kitchenware, adding to the design element of your space. While opting for glass provides light and texture, dark cabinets can also be used to make a statement in a smaller way.
If you're ready to take the next step to finding your dream kitchen, you can contact us today on 02381 040 013 to speak to a member of our team, or book a free design appointment to start planning your dream kitchen.