Storage Ideas For Bedrooms Small & Large
Your bedroom is an incredibly personal space in which to relax and get some well-earned rest at the end of a long day and the look and design of your room should reflect this. It should be both distinctively stylish and calmingly uncluttered as well as being practical to use and maintain. However, getting the perfect balance between having enough storage to ensure your room is well organised and keeping the space open and inviting can be tricky. We've put together some fantastic storage ideas to help give you inspiration. Interior design is an extremely aspect when it comes to renovating any part of your home which is why we only use the best in Hampshire.
Bedroom Wall Storage Ideas
Fitted Wall Units
Including fitted wall units in your bedroom design is a clever way to add sleek and stylish storage without imposing on your all-important floor area. Keeping your floor clear and uninterrupted creates the optical illusion of more space as the eye travels unimpaired to the edges of the room. With a beautiful variety of colours and styles to choose from, fitted wall units are an ideal alternative to freestanding furniture if you need to maximise space in a compact bedroom.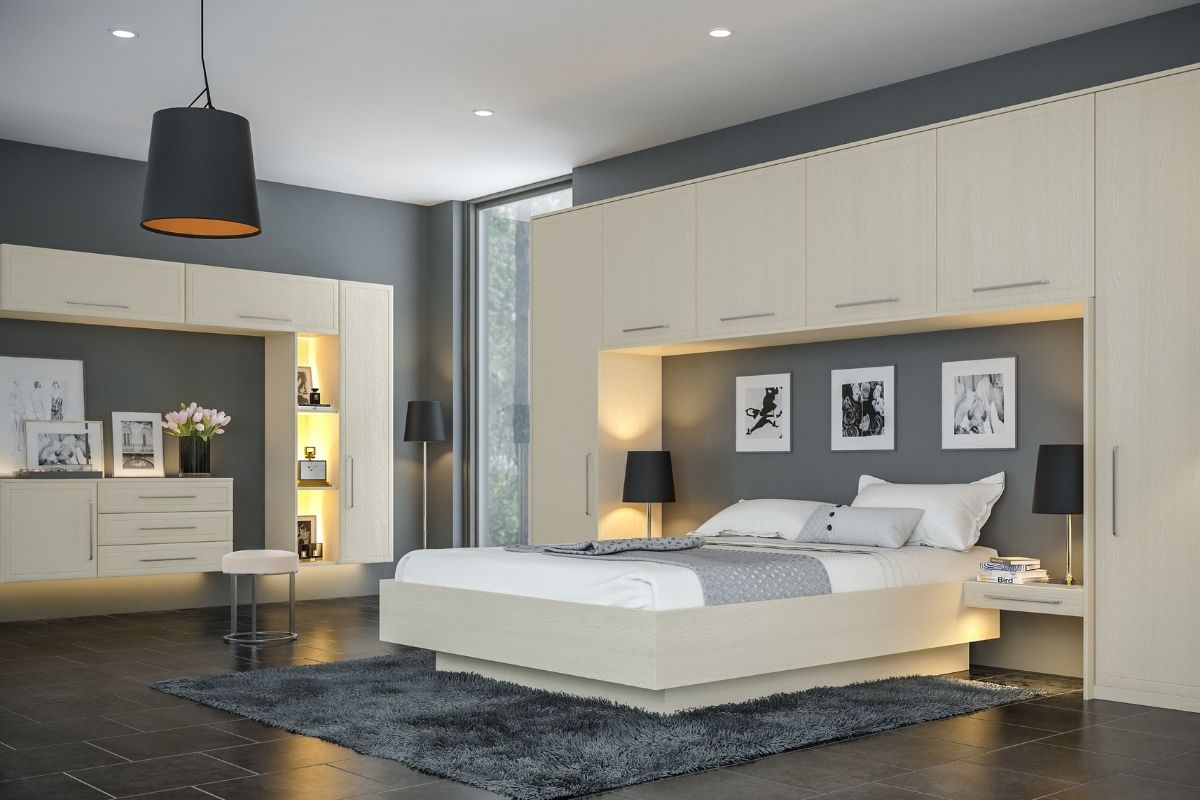 Stylish Shelving
Functioning similarly to fitted wall units, shelving allows you to gain extra storage without compromising on your floor space. Shelving additionally offers a wonderful opportunity to add a personal touch to your bedroom with a charmingly considered arrangement of your favourite books, vases, ornaments or pot plants. Unlike wall units and other furniture, shelving is much slimmer and less intrusive and with great decorative potential, shelving will enhance rather than detract from the look of your bedroom design. Create the perfect balance by pairing shelving with other types of storage to ensure your bedroom feels spacious and stylish.
Storage Ideas For Small Spaces – Clever Solutions for Alcoves
Maximising your floor space doesn't necessarily mean avoiding freestanding furniture altogether, it can also involve taking advantage of underutilised or awkward spaces such as alcoves or sloping ceilings. Finding furniture to fit an irregular shaped alcove can be tricky, however, doing so will enable you to make the most of every inch of your bedroom space. Fitted furniture can be the perfect way to utilise this floor space, consider choosing a contrasting finish or introducing artwork to make an attractive design feature.
Sleek & Seamless Bedroom Storage
Handleless Slimline Furniture
Opting for minimally styled furniture can emphasise the sleek and elegant look of your bedroom creating a peaceful atmosphere that's perfect for relaxing. Modern handleless designs possess sparing details and clean lines which will give a neat and tidy look to your space. Freestanding drawers and vanity units come in fantastic slimline models which are ideal if space is at a premium.
Mirror Wardrobe Storage
Mirrors have outstanding potential when it comes to making a small space feel bigger. They reflect light into the room establishing a brighter and more open environment as well as creating the visual illusion of additional space and depth. If you are concerned larger furniture might overwhelm your bedroom interior, consider choosing a mirror finish design so you can benefit from the space enhancing properties as well as disguising heftily proportioned storages areas.
Find a Place for Everything With Fitted Furniture
Despite providing the necessary storage, too much freestanding furniture can often result in a bedroom that feels cluttered and claustrophobic. Opting for a fitted wardrobe may involve sectioning off a larger portion of your space, however, their sleek design and amazing internal storage capacity could be a much more effective use of space than freestanding solutions. When choosing your fitted furniture be sure to carefully plan what you need to store so that you can work out exactly what internal layout you need. A perfectly adapted internal configuration will deliver exceptional organisation for a beautifully neat and tidy bedroom that makes it quick easy to find what you're looking for!
Stylish & Simple Bedroom Storage Ideas
Beauty Station – Make Up Storage Ideas
Your bedroom storage can be fantastically tailored to suit your needs. Design a truly luxurious interior by creating a gorgeous styling station with everything you need for getting ready for a glamourous evening occasion. Position a dressing table alongside matching storage for a sophisticated and feminine bedroom feature.
Double-up a Desk Space
Pair smart storage solutions with a wall mounted desk to make a handy multifunctional work area. Integrating a desk with sleek storage offers great potential for doubling up as a dressing table whether you use it store books and office equipment or toiletries and clothing.
There are a huge variety of options to choose from when it comes to creating your perfect bedroom storage whatever your individual style and taste. Hopefully, our tips have given you inspiration whether you need to maximise a compact space or create inventive and stylish features for a larger bedroom. If you would like to know more about bedroom storage options or if you're interested in finding a bespoke solution, please don't hesitate to get in touch with our friendly and knowledgeable design team who work in and around Southampton & Dorset. You can call our showroom on 02381 040 013
or email cadnam@kitchensinstyle.co.uk.